About DeBuck's Sod Farm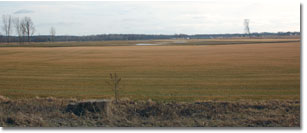 Shorebird habitat is very variable from year to year depending on standing water locations. The DeBuck's Sod Farm located just south of I-96 and west of Burkhart Road has been the most reliable site over the last few years. Highlights from this area include GOLDEN and SEMIPALMATED PLOVERS, SHORT-BILLED DOWITCHER, PECTORAL, LEAST, SEMIPALMATED and STILT SANDPIPERS. Viewing areas move around the sod farm depending on where they are lifting sod and where there is standing water. Most recently there has been reliable standing water on the south side of Millet Road on the north side of the sod farm.
DIRECTIONS TO DEBUCK'S SOD FARM To get to the general area, exit I-96 at the M-59 exit (exit 133). It is not obvious how to get to Burkhart road as you exit. If exiting from east bound I-96 you must cross over the entrance ramp for the east bound entrance to I-96 as you are curving around the exit ramp. This will be a left turn. If exiting from west bound I-96 you must make a left turn at the top of the exit ramp and cross over the freeway making a right turn on Burkhart Road just after you cross over the freeway (If you miss the turn off you end up on east bound I-96!). There is an entrance road to the manufactured home community that goes through the middle of the sod farm and is located off of Burkhart Road just south of the I-96 exit. Do not stop or park along this road. If there are birds present in this area, please proceed to the end of the entrance road and park in the community center parking lot and walk back along the road to view the birds. The parking lot can be seen straight ahead from the stop sign at the end of the entrance road. Turn right at the stop sign and proceed about 50 feet to the entrance of the parking lot on your left.