About Brighton Recreation Area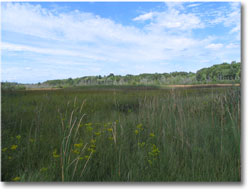 Brighton Recreation Area is a 4,947 acre State Recreation Area administered by the Michigan Department of Natural Resources. The area contains a wide variety of habitat including large sections of dry-mesic forest, a dry sand prairie remnant, and several prairie fens. This variety of habitat creates an ideal setting for bird watching during any season. Notable summer records at Brighton Recreation Area include Common Moorhen, Barred Owl, Golden-winged Warbler, Black-throated Green Warbler, Pine Warbler, Cerulean Warbler, Blackburnian Warbler, Hooded Warbler, Pileated Woodpecker, along with many of the usual woodland species. From mid-January to early March of 2006 a Townsend's Solitaire was regularly observed in the Bishop Lake Modern Campground.


Beginning bird watchers and experienced "listers" alike, will enjoy Brighton Recreation Area for it's diversity of species and ease of access. Many of the best bird watching spots in Brighton Recreation Area are along easily traversed trails and less traveled park roads, allowing bird watchers with limited mobility to enjoy the sights and sounds as well.
Visit the Michigan DNR Site for Maps, Directions and More Info